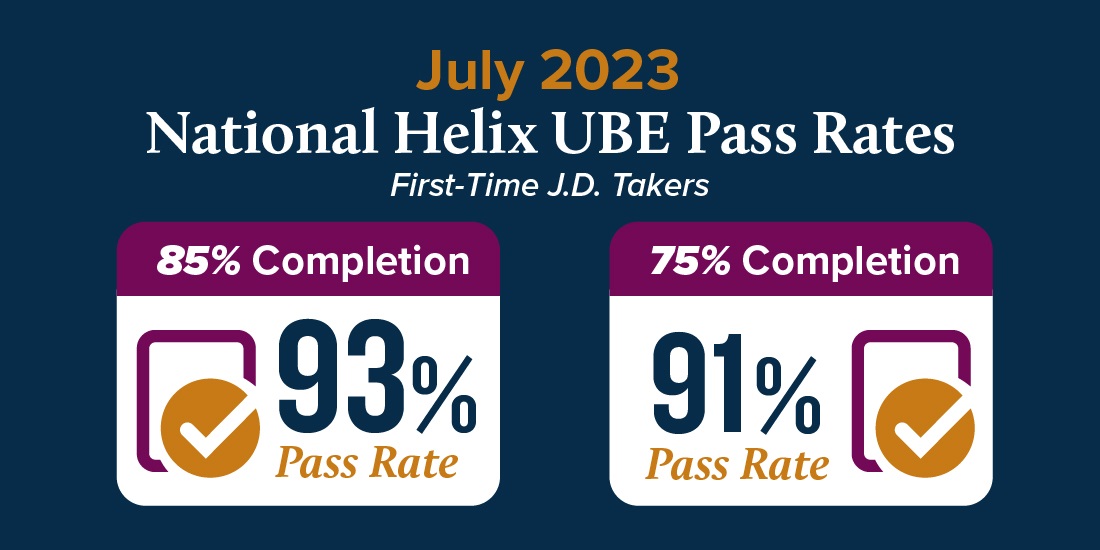 About Pass Rates
As with everything we do at nonprofit AccessLex Institute, when we took on the role of "bar prep provider," we took it on with one goal — to benefit law students and aspiring lawyers for the long term.
But despite our efforts to put the focus on manageable content, methodology, and price, the most asked question we receive is "What are your pass rates." While that seems like a solid question on the surface, there's so much more to it.
For any bar review course, the pool of students directly influences the pass rate, making analysis and comparison on an individual level fraught with error. For example, a bar review pool of students with an oversupply of students in the top 25% of their law class is very likely to have a higher pass rate than one that is overrepresented by the bottom 25%, even if they all take the same course. And there are myriad other distinctions in the pool's demographics that exert influence as well, most of which are unknown to bar prep providers and potential purchasers.
Also, consider this. Assume there are two law schools, each with 100 students, in a state with an overall 80% first-time pass rate. If students from Law School 'A' consistently pass at 90%, and students from Law School 'B' consistently pass at 70%, a bar review company could implement a strategic pricing strategy or marketing push to ensure they could publish pass rates as "proof" that it has some sort of pixie dust that helps their users exceed the state average.
So, although Helix outcomes are excellent, and we would love you to choose us, we don't believe in the sole reliance on pass rates. Be sure to do your research. Think about your own learning style. Ask about sample study plans and the order that material is covered. Ask what your daily schedule would look like. When do you get course access? Ask if you can speak to a licensed attorney throughout your course. And, of course, ask how much it will all cost.
Most importantly, research shows that the amount of time you dedicate to your bar studies, plus the quality and type of work you're doing during your study time, equals success on the bar exam. So, no shortcuts! Be prepared to complete 85% or more of any course you choose.
Learn more about Helix pass rates